4th Spirit Ring (Manhua only)

[

edit

|

edit source

]
Effects

The palm is facing the opponent, then a small black spirit power vortex is condensed in his palm.
From this spirit power vortex, many black ghost images attack the opponent
Spirit Ring
Origin: Unknown
Age: 1,000+ years
Color: Purple
5th Spirit Ring (Manhua only)

[

edit

|

edit source

]
Effects

When the Soul Ability is activated, a large shadow appears under the opponent's feet.
From the shadow, many shadow hands are stretched out to grab the opponent
Crowd Control Technique
Spirit Ring
Origin: Unknown
Age: 10,000+ years
Colour: Black
Info
Image

Initial Skill

Name: Ghost Demon
Type: Beast Spirit

Effects

Gives the constitution of a ghost.

Name: Ghost Demon Spirit Avatar

Effects

The user becomes transparent
Makes the user immune to physical attacks, capable of phasing through any physical attacks, as if their body is intangible.

Spirit Ring

Origin: Unknown
Age: 10,000+ years
Colour: Black

8th Spirit Ring (Manhua Only)

[

edit

|

edit source

]

Effects

Produces demon like lifeforms which attacks the target.

Spirit Ring

Origin: Unknown
Age: 10,000+ years
Colour: Black

9th Spirit Ring (Manhua Only)

[

edit

|

edit source

]

Name: Unlimited Engulfing Shadows

Effects

Produces countless ghost like beings that completely surround and attack the intended target.

Spirit Ring

Origin: Unknown
Age: 10,000+ years
Colour: Black
Gui Mei had a black Right Leg Bone, that suits spirit masters with demonic and agility Spirit Essences.
Spirit Beast
Abilities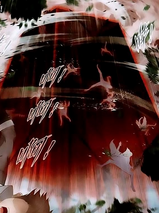 Gui Mei along with Yue Guan can use spirit fusion This union produces the Dark Eclipse.
It has the ability to repel a dual attribute domain. It appears as a gold and silver glittering ring of light.
Community content is available under
CC-BY-SA
unless otherwise noted.