Fighting Style
Edit
Wang Dong as a Power Attack System Spirit Master battles head on with his opponents, effectively and efficiently and tries to end the battle as soon as possible.
Info
Image

Initial Skill

Name: Bright Goddess Butterfly
Type: Beast Spirit

Effects

Produces wings of a butterfly.
Flight.
Can convert spirit power into speed.

1st Spirit Ring Edit

Effects

Turns wings into blades to attack with.

Spirit Beast

Unknown
Age: 600+ Years
Spirit Ring Color: Yellow

2nd Spirit Ring Edit

Effects

Releases a bombardment of powerful light blasts in various directions.

Spirit Beast

Unknown
Age: 1,000+ Years
Spirit Ring Color: Purple

3rd Spirit Ring Edit

Effects

Unleashes a 5 meter radius sphere of light around user. Enemies within the sphere get slashed by 108 rays of light.

Spirit Beast

Unknown
Age: 3,000+ years
Spirit Ring Color: Purple

4th Spirit RingEdit

Effects

Anything that is struck would immediately be trapped by the power of light contained within, and would have to withstand intense searing fire from the pillar of light. The only way to resist the fire was to continually release soul power, as one couldn't use any soul skills at all once struck by the Hexagram Array; all one could do was release soul power to fight against it. This would naturally consume a lot of soul power, and the duration was closely related to the target's cultivation. However, if the target's cultivation was within two ranks, the shortest duration of the trap would still be at least three seconds

Spirit Beast

Unknown
Age: 10,000+ years
Spirit Ring Color: Black

5th Spirit RingEdit

Name:Goddess of Light's Possession

Effects

This ability allows her to transform herself into a light elemental form for three seconds, and this allows her to develop an affinity for every other element except the darkness element.

This soul skill amplifies the force of her other soul skills by one hundred percent, and allowes her to strike back at darkness elements with three times the original force.

Spirit Beast

Unknown
Age: 20,000+ years
Spirit Ring Color: Black

6th Spirit RingEdit

Effects

Her wings changes into countless streaks of flowing light and fused with her Radiant Butterfly Goddess projection.

when hit the image of the Butterfly Goddess scattered to form many tiny Butterfly Goddesses and appears behind the attacker and creates many explosions strong enough to make a rank 70 soul master feel martial soul was on the verge of being torn apart by the terrifying explosive force

Spirit Beast

Unknown
Age: 50,000+ years
Spirit Ring Color: Black

7th Spirit Ring Edit

Name: Radiant Dragon Butterfly True Body (Avatar)

Effects

Transforms ito a golden-purple dragon-butterfly.

Spirit Ring 

Origin:TBA
Age: 100,000+
Colour: Red

8th Spirit Ring Edit

Name: Dragon Dance of the Radiant Sun

Effects

Creates a beautiful purple-gold sun

Spirit Ring

Origin: TBA
Age: 100,000+
Colour: Red

9th Spirit Ring Edit

Name:  Descent of the Sea God

Effects

Spirit Ring

Origin: TBA
Age: 100,000+
Colour: Red
Info
Image

Initial Skill

Effects

Manifests the Clear Sky Hammer

1st Spirit Ring

Effects

Her Clear Sky Hammer transforms into a long-handled battle hammer which is almost two feet long

Spirit Beast

Unknown
Age: 10,000+ Years
Spirit Ring Color: Black
Spirit Bones
Edit
Left Arm Bone - Golden Left Arm Bone Edit
In the manga, Huo Yuhao used his red card to exchange for the spirit bone for Wang Dong at Treasure Appreciating Ball.
Spirit Beast
Golden Earth Dragon King - 10,000+ years
Abilities
Golden Light : increase the destructive power of the light elemental attacks.
Omnipresence - it's extremely useful for offence, defense, soul power recovery, or even treating others. Can rival even a hundred thousand year soul bone's effects
Right Arm Bone - Fallen Light Demon Edit
In the manga, it's rewarded by the Shrek Academy.
Spirit Beast
Abilities
Concentrates the power of light into a single point and launches an attack. It looked like a drill because Wang Dong's cultivation wasn't high enough, but it could become as thin as a needle as he became stronger, to the point where it would eventually become a thread of light.
Left Leg- Wolf ApeEdit
Received after killing 3 mutated wolf apes which had the ability to use a 3-way fusion which were 10,000+ years old
Abilities:
Edit
Instant Shift-  teleport anywere within a maximum range of 10 meters. Top Tier agility spirit skill
Magnetic Attraction- within 50 meters Huo Yuhao, Wang Qui'er and Wang Dong'er can all teleport to each other
Triple Innate Battle Spirit Fusion
Edit
It is the spirit fusion of Wang Dong and Yuhao; they have a 100% fusion affinity rate which almost impossible as both party needs a high compatibility to each other.They can mix their soul force when in contact, multiplying it's regeneration, power and speed, it also affects the strength of their fusions.Additionally, whenever they are in physical contact, they can share energy with each other, however either of them using this power for spirit abilities is up to Yuhao's discretion due to Daydream manipulating the initial process that created this fusion power. According to Daydream Ice Silkworm,although their 3rd spirit was currently not fusable to each other,they can still fuse it's aura thus it further strengthen their fusion.
After some experimentation at the suggestion of Wang Yan, Yuhao and Wang Dong found that since they both currenlty have a two usable battle spirits, they have not only 1 but 4 possible Spirit Fusion Attacks.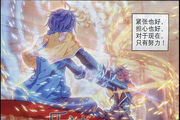 The fusing of their qi not only unlocked a powerful attack, but also allowed them to work together during meditation to accelerate essence cultivation by putting their hands together.
Name: Fading In Radiance, Golden Road (Dying in the Bright, Golden Road in the Manhua)
Effect: A golden path in a straight line, forcing target's spirit rings to deactivate, seals the target's spirit essence and makes the person(s) fall unconscious (although targets with much higher spirit levels will stay consc2ous) while still standing like a golden statue. Leaves behind a golden indentation where it carved a path in the ground. The attack is essentially an improved version of Soul Assault, augmented with the destructive force of the Bright Goddess Butterfly.
Name: Blaze Amidst the Frost, the Heavenly Emperor's Hammer
Effect: Summons a grown up version of Huo Yuhao. He then creates a giant ice hammer and smashes it down on the enemy.
Name: The Divine Truth Among The Emptiness, Spiritual Storm
Effect:
 Giant humanoid shape appears and rains countless golden hammers on the enemy. This skill fuses the Clear Sky Hammer's most powerful attack with Huo Yuhao's spiritual shock. This spirit fusion attack doesn't use much soul power but it demand on spiritual power is terrifying. This attack could directly go through an opponent's spiritual sea to unceasingly attack one's spirit by using various memories, it doesnt do as simple as destroying one's spirit, but targets one's consciousness. This spirit fusion skill is strong enough to affect Huang Heyun, the Heavenfiend Lonestar Douluo while Huo Yuhao is Spirit Grandmaster and Wangdong is Spirit Elder.
Name: Ice Frost Solo Dance - Goddess of Light
Effect: Summons a humongous "goddess butterfly" that looks like grown up Wang Dong powerful enough to disperse a Spirit Fusion attack produced by Yuhao's and Wang Dong's peers. This is the only one out of four spirit fusion that is under control of Wang Dong.
In this form Wang Dong'er can control the abilities of both Yuhao's and her spirit bones and the spirit rings from their respective spirit essence used in the fusion.
Name: Golden Butterfly Dragon Transformation
Effect: Transforms into a single person who has 6 dragon wings. their strength is boosted to the pinnacle of what a Soul Douluo would be able to reach when they are both around Rank 60. When using this fusion they wield the Golden Dragon Spear
Fusion beween Wang Dong'er and Wang Qiu'er where both of them are in control at the same time. Qui'er is in charge of Close combat abilities while Dong'er is in charge of energy based attacks.
Name: Purple and Gold Draconic Butterfly Transformation
A slender man covered with purplish-gold armor. The purplish-gold light was shining forth from the armor. He had a pair of special wings behind him. They weren't made of feathers, and didn't resemble butterfly wings either. They had adopted the structure of wings that seemed to belong to some kind of ancient, sacred dragon.
While the man wore armor, he didn't have a helmet. His black hair flowed down behind his shoulders. On his forehead, there was a bright purplish-gold vertical eye. Upon closer inspection, the reflection of the principles of heaven and earth could be seen in his eye.
The man didn't resemble anyone, he didn't look like Wang Dong'er or Huo Yuhao. His handsomeness was filled with a sense of holiness.
The armor's scales were rhombic, and they refracted purplish-gold rays under the illumination of the purplish-gold glow.
Huo Yuhao is the controller of this spirit fusion skill and his skill becomes compariable to a Rank 80 Spirit Duoluo
Community content is available under
CC-BY-SA
unless otherwise noted.