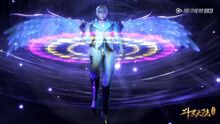 Wind Chime Bird is a beast spirit of the Agility Attack System. This transforms the user, giving wings in the place of his hands allowing him to be able to fly in the air.
Ability
Image

Name: Wind Edge

User

Spirit Ring

Ring: 1st Spirit Ring
Colour: Yellow

Effects

Makes his wings razor sharp.

Name: Wind Surge

User

Spirit Ring

Ring: 3rd Spirit Ring
Colour: Purple

Effects

It is released by flapping of both winds causing a layer of green colored cloud-like spirit power to be released in waves which gathers in the air, forming the shape of a giant bird and swooping down on the opponent.
Community content is available under
CC-BY-SA
unless otherwise noted.